When the editors of the Encyclopedia of Mississippi Law were looking to update their section on driving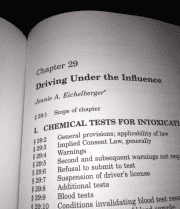 under the influence, they did what many other smart people do when they have questions about Mississippi DUI law: they called on the Eichelberger Law Firm. Eichelberger Law Firm partner Jennie Eichelberger took on the task of overhauling the chapter on Mississippi DUI law to reflect the major changes that the Mississippi Legislature implemented over the past 5 years, and the books are now hitting the desks of lawyers across Mississippi. From non-adjudication to ignition interlock devices, Jennie shared her knowledge of Mississippi's new DUI laws in this volume of one of the Mississippi legal community's most trusted resources. If you or a loved one are in need of legal representation for a DUI, shouldn't you call the folks who wrote the book on it?
Call our office for a free consultation; we will be very happy to help.